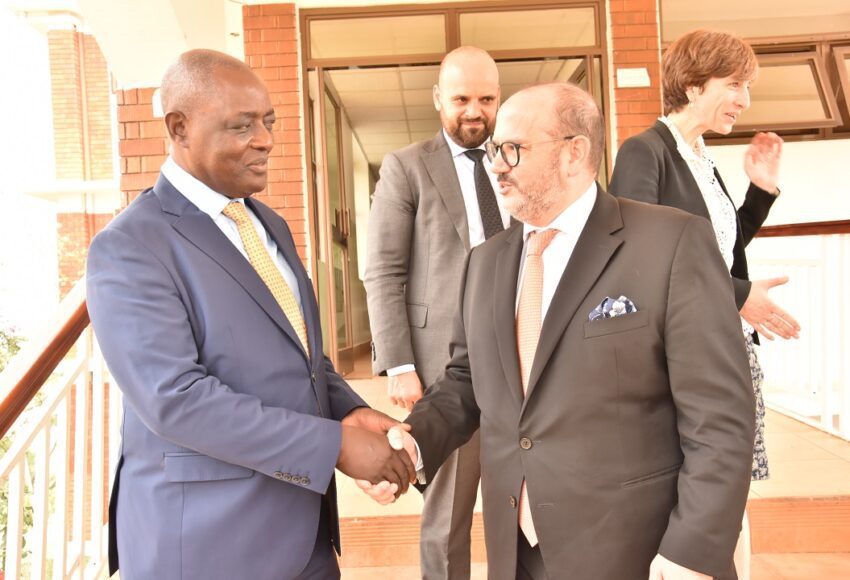 Defence Minister Meets European Union Envoy For Africa
The Minister of Defence and Veteran Affairs Hon. Vincent Bamulangaki Ssempijja has today met with the Deputy Managing Director for Africa at the European Union External Service; H.E Benard Quintin.
The meeting at the Ministry of Defence and Veteran Affairs (MODVA) Headquarters in Mbuya, Kampala; aimed at strengthening cooperation in the areas of peace and security, most especially in the Great Lakes Region.
Hon Ssempijja extended his gratitude to the European Union for their continuous support toward a peaceful and stable Africa.
He affirmed Uganda's position that the deployment of the East African Community Regional Force (EACRF) as agreed by the East African Heads of State in 2022 is still key to fighting the negative forces in the region, especially in the Eastern Democratic Republic of Congo (DRC), where negative forces have created spillover effects of insecurity into the neighbouring states. "For us in Uganda, we believe that the East African family, the East African Regional Force is a very good solution needed to achieve sustained peace in Africa's Great Lakes Region,