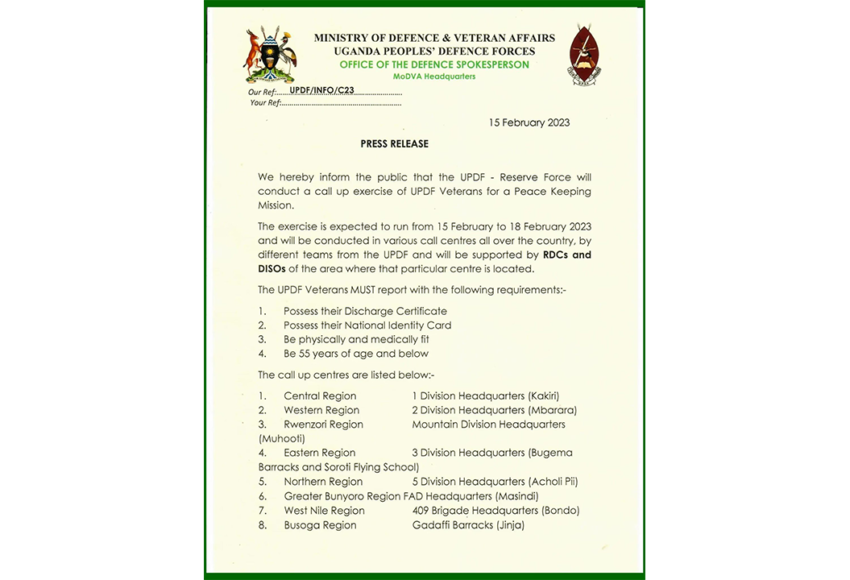 UPDF Veterans for a Peace Keeping Mission
We hereby inform the public that the UPDF – Reserve Force will conduct a call-up exercise of UPDF Veterans for a Peace Keeping Mission.
The exercise is expected to run from 15 February to 18 February 2023 and will be conducted in various call centres all over the country, by different teams from the UPDF and will be supported by RDCs and DISOs of the area where that particular centre is located.
The UPDF Veterans MUST report with the following requirements:-
Possess their Discharge Certificate
Possess their National Identity Card
Be physically and medically fit
Be 55 years of age and below
The call-up centres are listed below:-
Central Region           1 Division Headquarters (Kakiri)
Western Region           2 Division Headquarters (Mbarara)
Rwenzori Region           Mountain Division Headquarters (Muhooti)
Eastern Region           3 Division Headquarters (Bugema Barracks and Soroti Flying School)
Northern Region           5 Division Headquarters (Acholi Pii)
Greater Bunyoro Region FAD Headquarters (Masindi)
West Nile Region           409 Brigade Headquarters (Bondo)
Busoga Region           Gadaffi Barracks (Jinja)
Greater Masaka Armoured Brigade Headquarters (Masaka)
Northern Region 4 Division Headquarters (Gulu)
I wish to encourage all Veterans who meet the criteria to answer the Call to Duty.
Alluta continua